"

Daring, dexterous singer/songwriter/poet...appeal to both traditional and contemporary jazz tastes and even hip-hop hipsters " - Philadelphia Daily News
"

Seductive, clever, whimsical, provocative but always heartfelt...truly riveting" - The JW Vibe
"

Singer, spoken-word artist and poet with an incisive way of chronicling situations, memories, and emotions… a pliable, expressive voice dipped in blue" - Jazz Times
"

Each listening reveals previously undiscovered depths of brilliant artistry and colorful storytelling" - KIOS-FM
"

Funky, fresh and sexy as all hell...seamless blending of jazz, hip-hop, soul, spoken word and popular music" - Canadian Audiophile
"

Inventive and often haunting" - L.A. Jazz Scene
— see complete press roundup at https://lisabmusic.com/press-3-newest-albums-roundup#press-roundup
Lisa B: Award-Winning Spoken Word & Song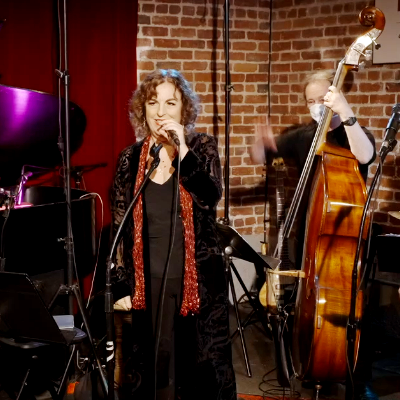 LISA B (LISA BERNSTEIN) IS A UNIQUELY COMPELLING ARTIST:  She melds spoken poetry and sung lyrics, in original songs and adventurously reimagined standards. Her music spans jazz, hip-hop, and electronica grooves.
SHE HAS PERFORMED HER SPELLBINDING SPOKEN WORD AND SONG at 90+ venues, including clubs, festivals, educational settings, and theatres.
Her seven CDs released over the past two decades received radio play and charting on hundreds of trade-reporter jazz, college, and free-form stations, garnering rave reviews in Jazz Times, Jazziz, All About Jazz, the Seattle Post-Intelligencer, the Philadelphia Daily News, and many other publications and an interview in Downbeat. Press roundup here!
Her widely published poetry/spoken word and the storytelling that is part of her presentations won fellowships or grants from California Humanities and the National Endowment for the Humanities, National Endowment for the Arts, Headlands Center for the Arts, City of Oakland, and many others.
Also offering workshops, clinics, and residencies for performers and creators, Lisa B draws on her varied experience as a teacher and coach at the university, community, and K-12 levels, as well as her private coaching practice. Learn more about her teaching qualifications and offerings here. 
__________________________________________
SELECTED PRESENTER & FAN QUOTES
"She totally captivated the audience. She is an originator, her arrangements are mesmerizing, and her band is great!"
- Gary Hamada, Jazz and Blues Company/KRML-FM, Concert Manager
"Obviously you're a gigantic talent…you totally controlled the room." 
- Robin Reichert, owner, Paradise Lounge, San Francisco  
"You know as a poet and as a singer that you were being heard... from the silence between phrases. I was surprised by many things. First by the quality and range of your voice. When you want to you get a terrific blues quality. The people playing behind you are so good. I especially enjoyed 'Center of the Rhyme' and the Joe Williams song." 
- Philip Levine, former Poet Laureate of the United States 
"That was a wonderful show last night. My friend and I had a great time. You were marvelous – charming, funny, astute, original. Your band was exquisite, each and every one of them. Your comfort on the stage and with the band felt assured. 
My friend also thought you put on a fabulous show and that the musicians were outstanding. She really enjoyed your personality and your stage presence." 
- B.N.
Selections from Two Shows: 1) Lisa B's Original Music and Verse & 2) Lisa's "Cole Porter Reimagined" Show